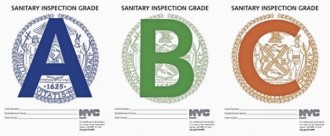 HOW BCB CAN HELP YOU ACHIEVE AND KEEP AN "A" GRADE
BCB is prepared to assist you by:
Writing and submitting your HACCP Program
Increasing employee training in food safety and NYC DOH compliance
Increasing re-inspections when unit falls below an "A" grade on an inspection
We are always available to answers questions and to clarify any concerns arising regarding your NYC DOH Inspections
Representing your interests before the NYC DOH
We recognize that you will have questions and that there will be additional need for both re-inspections and consultations, if desired, in reference to individual HACCP plans. Please feel free to contact either of us through our corporate office with any questions at 917-743-0217
  When opening a new restaurant, whether it's your first or your 100th, there are many factors that must be considered. Food safety is a major concern that can affect your operations on many levels and should never be ignored. There are many ways to go about preventing food borne illness within your restaurant facilities.
  Better Call Beth provides services from routine inspections, lab testing, staff training and certification as well as developing a HACCP program to encompass the most up to date food codes and laws implemented in a given city or state. In the worse case scenario, BCB provides extensive crisis management in the case of food borne illness and/or outbreak no matter where or when the case occurs. Our certified staff is on call 24 hours a day to assist in any food safety matter that comes to light.
FOOD INSPECTION SERVICES
We utilize rigorous inspection techniques to identify problems, educate employees and solve sanitation problems before they lead to an outbreak scenario. We use HACCP principles which focus on temperature control, cross-contamination and employee hygiene. We also evaluate Standard Sanitary Operating Procedures (SSOP) and Good Management Practices (GMPs) while assessing equipment/utensil condition, water/sewage systems, garbage disposal, pest control and structural components (walls, floors, ceilings, lighting and ventilation). Food Sampling and Laboratory Testing.
We provide comprehensive analysis of food, water and dairy products. Laboratory test results accurately determine wholesomeness/adulteration, shelf life, compliance with regulations and how well food service employees are handling the food.
MANAGEMENT & EMPLOYEE TRAINING & CERTIFICATION.
Our certified instructors can provide your organization with the nationally recognized food protection managers certification course. Using demonstrating techniques to most commonly asked workplace discussions. Hands-on task-oriented sanitation training can also be provided for your foodservice employees.
PLAN REVIEW FOR NEW AND RENOVATED FACILITIES
Why wait until a sanitation problem is built into your operation? By review of your plans, we can catch potential problems before they occur and ensure proper layouts for sanitation and cost-effective operation. Prior to the completion of the project – we can also confirm compliance with health department regulations, manufacturing specifications and equipment condition and installation.
PEST CONTROL EVALUATION AND AUDITING
Any state-of-the-art Integrated Pest Management program is comprised of 3 basic principals: good structure, good sanitation and a well qualified Pest Control Operator (PCO). We can customize a standard of performance for pest control to help monitor your Integrated Pest Management program and to assist in the bidding process and vendor selection.
DISEASE OUTBREAKS AND LIABILITY
We provide comprehensive services related to outbreaks, foodborne and waterborne diseases (e.g. Salmonella, E.Coli, Listeria, Hepatitis A) and other liability issues involving food products. For more information on these topics, please visit our other Support pages.
RETAIL – HACCP PROGRAM DEVELOPMENT AND AUDITING
Developing an HACCP program that works in a retail environment can be challenging. We can provide you with the tools to make this task easier, the education to implement the program efficiently and ensure that the program functions as designed.