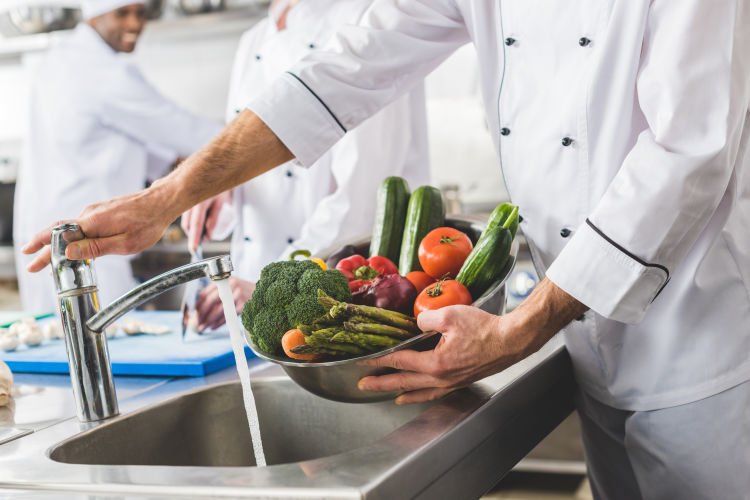 Washing Raw Meat Does Not Protect Against Illness
Lots of people think that rinsing or soaking meat and poultry improves safety. However, when you cook whole pieces of meat, pork, or poultry, a cooking temperature above160°F on the surface of the product will destroy any disease causing bacteria. The NYC DOH and USDA Meat and Poultry Hotline does not recommend washing or rinsing raw beef, pork,…
Washing Fresh Produce
Washing fresh produce before eating is a healthful habit. Supermarkets, as a rule, don't wash produce before putting it out, but many stores mist it while its on display. Misting keeps the produce from drying. Small amounts of surface residues do drain off, but may not be enough. You can reduce and often eliminate residues…
Gifts in the Mailbox
Giving and receiving food packages in the mail for the holidays can be fun, festive and exciting. When mailing food gifts you must consider how well the product will travel and safety. Will the items remain in good condition during the trip and arrive in one piece? If sending perishable foods, will the items still…
Food Safety Chart
When to Save and When to Throw It Out General Rule: As long as the power has been out less than 2 hours, all foods will be safe. For more information or food safety questions contact the
Food Safety and Buffet Etiquette
Eating out at a buffet can be a good value for your money as you can consume as much as you wish for one price. But eating at a buffet can be a food safety challenge, both for the food service establishment as well as you as a customer. The restaurant that serves a buffet…
Decoding Food Dates
Do the dates on food packages puzzle you? What about those letters and numbers? If you are confused or puzzled– you are not alone. There is no uniform or universally accepted system for food dating in the U.S. However, NYC law does require that foods that spoil within 30 days, including milk, cottage cheese, and…
Cooking Outdoors Safely
Cooking outdoors was once only a summer activity shared with family and friends. Now more than half of Americans say they are cooking outdoors year round. So no matter the time of year, it's important to follow food safety guidelines to prevent harmful bacteria from multiplying and causing foodborne illness. Use these simple guidelines for…
Cleaning Out the Kitchen Cupboard
Have you looked in your cupboards lately? I mean really looked in them? Like in your refrigerator, items can get pushed back in the cupboards and you forget about them. It may be time to pull those things out and assess if they should be kept or tossed out. Below are some tips on what…
Staying Healthy at the Fair – Wash your Hands!
Sanitizing Cutting Boards
Both wood and plastic cutting boards will become contaminated with bacteria on contact with any raw animal product. Both types of cutting boards can transfer bacteria from raw meat to other foods unless they are sanitized. Research at the University of Wisconsin suggested that wood inhibited the growth of bacteria and thus wooden cutting boards…
Preventing Illness from Listeria
Listeria is a foodborne illness caused by bacteria that is able to grow at refrigeration temperatures. Outbreaks in recent years have been linked to contaminated coleslaw, milk, and cheese. Listeria is caused by bacteria frequently found in soil, water and plant matter. Listeria can be present in raw milk and soft cheese products or raw…
Gifts that Promote Food Safety
Gifts that help your loved ones avoid foodborne illness may be the best gift you can give. These gifts will encourage your family and friends to consider keeping their food safe and prevent food borne illnesses.
Recent Additions
Washing Raw Meat Does Not Protect Against Illness
Lots of people think that rinsing or soaking meat and poultry improves safety. However, when you cook whole pieces of meat, pork, or poultry, a cooking temperature above160°F on the surface of the product will destroy any disease causing bacteria. The USDA Meat and Poultry Hotline does not recommend washing or rinsing raw beef, pork,…